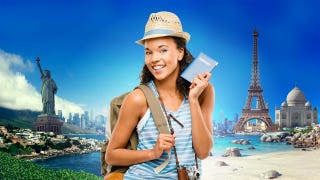 Dear Lifehacker,
I'm planning on taking a trip by myself soon. I'm excited but also a little nervous, because I'll be completely on my own and especially after hearing about that woman who was killed while vacationing alone in Turkey. What do I need to know or do to make the best of my solo trip and stay safe?
Business trips can be extremely productive, but it's important to find a way to get your day-to-day operational tasks done in transit. (And during non-peak networking hours, so as to not get behind while away from the office.) Here are some easy tips to stay on top of things through a trip, so you won't have any…
Find. Eat. Drink. (or F.E.D.) is a website and iOS app that highlights the best restaurants, drinking holes, and food shops around the world, according to professionals in the industry (chefs, bartenders, sommeliers, and food purveyors). It's a handy guide food lovers, whether you're traveling or looking for good eats…
Hotel room coffee leaves a lot to be desired, especially if you're used to making a really good cup of coffee at home. If you want a cup of coffee that tastes like coffee and not like watered-down mud, try some extra coffee steeping.